Announcing Firebomb
My project Firebomb is a Firefox plugin, a browser bookmarklet, and an iOS App. Firebomb lets you pretend to blow stuff up with 8-bit explosions. I'm sure you are probably familiar with Firebug, the ubiquitous debugging plugin for Firefox.
"If you can't fix a bug with Firebug, blow it up with Firebomb!"
Firebomb started out as a tongue-in-cheek parody of Firebug that I originally did for the 10K Apart Contest in 2010. Quality stress relief! Firebomb has since evolved from the original gag and developed a life of its own.
Get Firebomb for Firefox and Other Browsers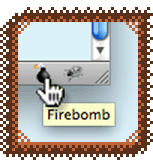 My Firebomb plugin for Firefox 4 and 5 was developed with the new Mozilla Add-on SDK that hit its 1.0 release in June 2011. Originally called JetPack, the Add-on SDK allowed me to build out a true plugin for Firefox using a smart JavaScript API. This was a really quick and fairly painless process. I definitely recommend the SDK for web developers looking to do a Firefox plugin. I also made Firebomb Lite as a browser bookmarklet so you could have the joy of firebombing Internet Explorer... I know you want to!
Firebomb for Firefox and the Firebomb Lite bookmarklet are both free and available for download today! Use them whenever you need more firepower than Firebug alone!
Buy Firebomb AR for iOS - Blow Stuff Up in Augmented Reality
I made Firebomb AR for iOS because I also wanted to bring the fun of 8-bit explosions (including gratuitous chippy kaboom sound effects) to the world outside of web browsers. Just like The Kids in the Hall used to pretend to crush heads between their fingers, you can launch the Firebomb AR App, aim your camera at a target, and pretend to blow it up by tapping the screen.
Firebomb AR is great for taking care of crashing computers, alarm clocks, piles of work papers, your boss… It's old school stress relief. Available in the App Store today for 99 cents! (Not for use on lolcats. Aim away from face. Batteries included.)
Buy Firebomb AR for yourself, or as a fun gift for the special geeks and kids in your life. (Big, grown-up kids, too!) Your purchase will support an independent App farmer who uses 100% organic 1s and 0s, and it will greatly encourage his odd sense of humor.