About Zachstronaut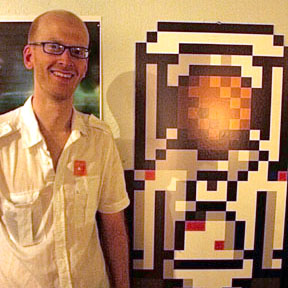 Hey there, I'm Zachary Johnson, an entrepreneur and Creative Developer living in Minneapolis, MN. I am both a computer scientist and an artist. I'm currently coding my way to the edges of the JavaScript / HTML5 / CSS3 universe. I aspire to create human-focused experiences that are both useful and entertaining.
I founded my business Zachstronaut LLC in early 2011. Please contact me or hit me up on Twitter if you'd like to work together on a project! I have over 15 years of experience. I'm interested in big projects, small tasks, and everything in-between. I work quickly, and I've also got an extensive network we can leverage!
See my resume for details about my experience and education. Take a look at some of my speaking experience. Much of my career has been spent as a professional web developer and team leader. I've lectured on accessibility at the Big Ten. I've done international usability testing and ethnographic research.
zachstronaut.com is the latest in a succession of web sites going all the way back to 1996. I launched this new rocket laboratory at the beginning of 2009 so I would have a place to share my experiments and show my love <3 for the internets. Here you will find articles and projects for web professionals, software engineers, gamers, and geeks ranging in scope from the humorous to the very technical.
I find myself deeply interested in many topics, including:
The web stack (HTML / CSS / JavaScript)
Cutting edge web tech like WebGL and the latest HTML5/CSS3 specs proposed by WHATWG/W3C
Realtime web applications (Web Sockets and Node.js!)
Using JavaScript in all sorts of weird places
Product Design / Application Design
JavaScript MVC/MVVM/MV* like Backbone, React, etc
Merging elements of gaming and behavior motivation into User Interfaces (UIs)
The Mobile Web, iOS, Android
LAMP stack (Linux / Apache / MySQL / PHP)
Web best practices, e.g. Responsive Design, Progressive Enhancement, Progressive Enrichment
Beer and malt and hops
Playing Video Games, especially 8-bit and 16-bit flavors
Making independent video games
Pixels
Chiptunes
Low-level network I/O with TCP and UDP sockets (and now Web Sockets!)
Framework internals and creating new frameworks
Apache's mod_rewrite
Software Design Patterns, e.g. Promises, Factories, Model-View-Controller (MVC)
Artificial Intelligence (AI), Artificial Life (AL), Emergent Behaviors
Application Security
Pointers and manual memory management
Algorithms and Data Structures
Optimization
Daemons
Command-Line Interfaces (CLI)