</2013> <2014>
published:

2014.01.11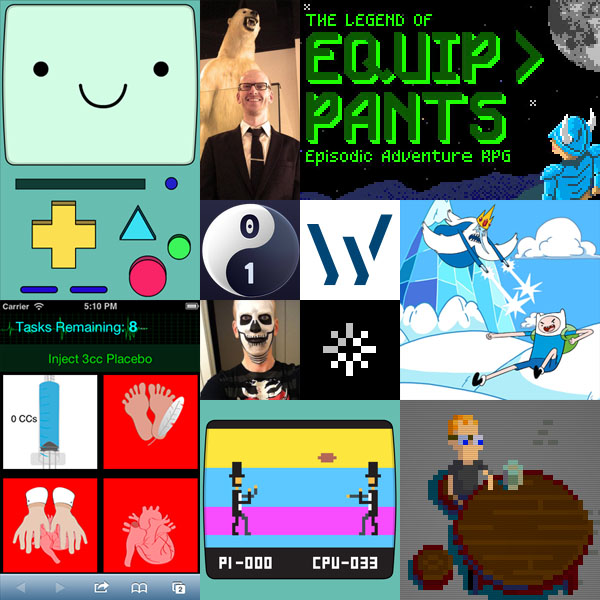 December/January are the time of ennui and self-reflection. "Did I accomplish anything this year?" I wonder to myself. How did those New Year's Resolutions turn out? I find the way to turn that frown upside down is to make a list, and see that yes, in fact, I didn't just sit around watching Netflix all year.
Here is such a list:
January
February
March
April
May
June
July
August
September
October
November
December
Appendix
Wow! What a year! I marked the second year anniversary of my company Zachstronaut LLC. Since starting my own company to work for myself, the challenge has always been finding meaningful work and balancing consulting/business partnerships with creative/artistic interests. These two things are not mutually exclusive, and they overlapped wonderfully in 2013!
I had the joy of working with Ham in the Fridge as a development consultant, building games designed for Cartoon Network and Interscope Records. I really can't state enough how lucky I feel that I got to do the programming for the Beemo app since I'm so fond of the Adventure Time series.
This past year also marked a very important event: I made my first commercial video game release! Legend of Equip > Pants was released on iOS in November. I had done other commercial app releases, and I've certainly released many free games, but it was a very big milestone for me to ship a completed video game as a product. I did all the game design, art, programming, marketing, etc. for Equip > Pants, so it is a big personal achievement. I had the support of a great musician named Christopher Winter as well as lots of feedback and encouragement from tons of friends. Check out the Thank You section at the bottom of the game's website.
Community and friends are always such an important thing. IGDA-TC and JavaScriptMN continue to be two wonderful communities in Minneapolis, and I very much appreciate the friends I've made. I also joined up with CoderDojo TC early in 2013, and helped make the first event happen here in our city. The kids were amazing, and mentoring is really fun.
And 2013 also marked another MinneWebCon, the Minneapolis web conference I've been helping plan for six years now! The entire volunteer planning committee is composed of amazing people. I also threw my hat into the ring as a speaker again at MinneWebCon in 2013. Infinite Scroll has been driving me absolutely nuts on Twitter.com pretty much daily, so I couldn't resist the chance to complain and propose solutions. We were again blessed with excellent speakers overall at the conference, and it was a pleasure to meet Brad Frost and Veronica McGregor.
What about video games in 2013? Well I made two for clients and two for myself. However, Beemo was actually three mini-games and several other playable activities. And, not only did I finish and ship the first two episodes of Equip > Pants, but I also made a third brand new "Panta Claus" episode in December. So that's like more than seven games really. ; ) The year 2013 got started off right with games, too, because I teamed up with friends at Global Game Jam to make a game in 48 hours inspired by the awesome iOS party game Space Team.
What's in store for 2014? Well, first of all, I'm looking forward to more amazing partnerships. Secondly, I want to continue to release new episodes of The Legend of Equip > Pants. I'm certain I'll be spending a lot of time working with JavaScript and building things in the mobile space. I think I'll keep finding smart reasons to use Node.js and WebSockets. And finally, I really hope to spend some more time playing with WebGL.
I hope you had a great 2013, and I wish you a happy, healthy, and remarkable 2014!